Call Brian for advice and special pricing 703-963-7389
Colorado Reflex Technology $3650 + Shipping

While developing the Colorado we set out to design a paramotor glider that is safe, stable, easy to launch and land, fast and efficient, and fun to fly for adventurous and demanding pilots. According to the excellent feedback we are getting from those who have flown the Colorado we are confident that we have achieved our goals!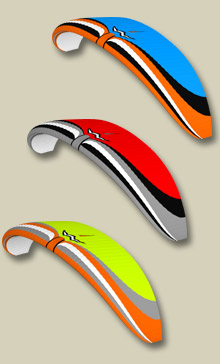 Muse 4 - Relaxed Sport with Flare $3250 + Shipping

The New Muse 4 is in a class of its own because of its unique, sporty flying characteristics. On the ground and in the air, the Muse 4 excels with magnificent glide, easy launch, and excellent stability. You will feel relaxed and enjoy the Muse 4 as a great intermediate glider. The new Muse 4 is one of the top intermediate gliders on the market.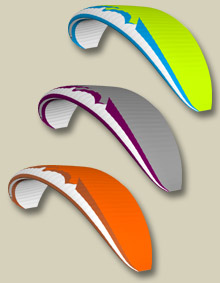 Eden 7 - Your new XC-Experience $3700 + Shipping

Maximum performance combined with a high degree of passive safety.
The new Eden 6 makes paragliding easier and more enjoyable. Featuring the new revolutionary "leading-edge-technology", the glider offers XC potential, that sets a new benchmark in the EN-B Class.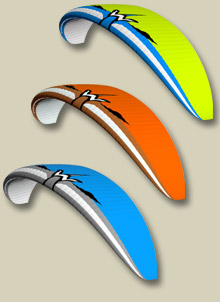 Charger - Performance Freedom Flying $3300 +Shipping

The new Charger is a fun and safe reflex glider in the intermediate sport class. It's a paraglider that will help you advance your skills and keep you enjoying the sport. The Charger combines speed and maneuverability found in higher level classes. Depending on the size you choose, this glider will put a smile on your face with its solid feel and comforting sportiness.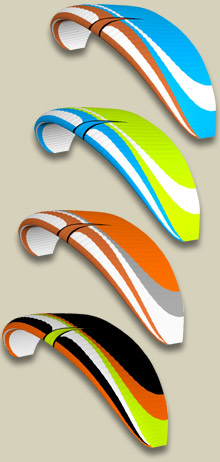 Pasha 5 Trike - Ultimate luxury flying saloon for two. $3875 + Shipping

The quintessential tandem paraglider with supreme every day work capabilities. The new Pasha 5 Trike is a superb tandem wing for use with a foot launch paramotor or a tandem trike/quad. The very easy take-off and great landing behavior of the glider is well suited for both commercial and recreational use. Its excellent performance combined with light and precise handling will delight paramotor pilots that want to travel with a passenger.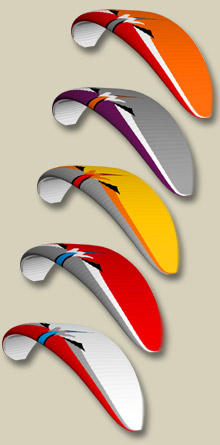 T-Ride - Trike Power Wheels $4300 + Shipping

MacParas designer Petr Recek has seen the increasing need for a paraglider that is designed specifically for wheeled powered paragliding configurations such as trikes and quads. The T-Ride is a paraglider for heavier loads using wheels while offering the security and stability found on other MacPara's gliders. The highlights of the T-Ride design is that is aids in fuel efficiency despite its great handling and safety.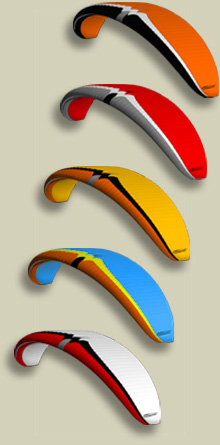 No Items.